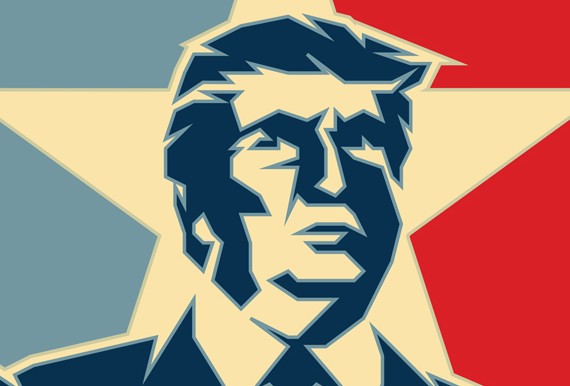 If Donald Trump gets sworn into office next January, he will be able draw on all the oaths he's ever given during nearly half a century of suing — and being sued.
Over the course of Trump's campaign to win the White House, he has made repeated references to his use of the courts, having regularly litigated against partners, governments, tenants, rivals and others over his more than 40-year real estate career.
And his presidential campaign hasn't slowed that litigious streak.
Since announcing his candidacy in June, Trump has sued a business partner, Univision, for $500 million. In addition, he threatened to sue a rival, presidential candidate Ted Cruz, for not being a natural-born U.S. citizen.
He's even discussed lawsuits he'd like to bring in the future, pledging that as president he would "open up libel laws" so "we can sue [newspapers] and win money."
But as one attorney who has closely followed Trump's legal maneuvers said, it's not just about winning and losing. "Sometimes you sue because you want to win, other times you sue for delay, and sometimes you just sue to bully or get leverage. A lot of his suits are in the latter two categories," said the lawyer, who asked to remain anonymous.
With that in mind, The Real Deal took a deep dive into Trump's litigation history, focusing mostly on Manhattan real estate.
We reviewed hundreds of cases filed in Manhattan courts between the early 1980s and last month that involved Trump or one of his business entities.
Using public court records, TRD identified more than 90 cases in which Trump (or one of his entities) sued in New York County State Supreme Court on a real estate-related matter and more than 250 cases in which he (or one of his entities) was the one being was sued. (We eliminated all trip-and-fall-type suits as well as routine tax assessment appeals.) We also dug through old news reports and sifted through federal cases involving Trump.
Although in Manhattan he appears to have been disproportionally on the receiving end of most lawsuits, over the last four decades Trump has pushed a number of high-stakes real estate cases through the highest courts in New York. In at least one case, the fight has gone all the way up to the U.S. Supreme Court.
"Like many savvy New York real estate players, Donald Trump most certainly uses litigation as a tool to get what he wants," said attorney Ray Hannigan, who represented Trump during the mogul's 2002 sale of his stake in the Empire State Building.
Whether those experiences in the halls of justice predict presidential behavior is up for debate, but in the courthouse at least, Trump has shown himself to be more than willing to press opponents for as long as his attorneys will go along for the ride. And while he's adamantly claimed on the campaign trail that he does not settle suits, these cases show that he has indeed done so on multiple occasions.
The suits also offer a window into his temperament — beyond the campaign bluster — and into how he would conduct himself as the leader of the free world.
Below is the first web installment of a story that looks at decades of Trump's legal battles and how he handled each one.
Trump v. Government
The 'first' 421a fight
Trump may be looking to run the government, but he's also been one of its biggest gadflies. The GOP frontrunner has made a habit out of suing governments over the years. Experts say it's hard to recall another presidential candidate who's gone head to head with the government like Trump has, with the exception of the consumer rights advocate Ralph Nader. But Allan Lichtman, American University history professor and author of "The Keys to the White House," noted that there is of course a "huge distinction" between the two men.
"Ralph Nader's lawsuits are not for personal profit, they're for the public interest," he said.
Trump's personal squabbles with the government, however, had far reaching public implications for the real estate community.
Trump's fight with the city over 421a — a predecessor to the battle that's making headlines today — is just one case in point.
It was that highly coveted developer tax cut that provoked Trump to sue Anthony Gliedman, the head of the NYC Department of Housing Preservation & Development, back in 1981 when Mayor Ed Koch was in City Hall.
Trump had been denied 421a tax relief to construct Trump Tower, a 58-story skyscraper built on the site of the Bonwit Teller building at 725 Fifth Avenue.
In those days, 421a did not require developers to include affordable housing, but it did require that prospective sites be "underutilized."
When the city rejected Trump's abatement, he took them to court. The city argued that the Bonwit Teller building did not meet the standard for "underutilized." It also later contended that 421a was never meant to be tapped for luxury condos.
Lower courts twice ruled that Trump was due his 421a break. But when the Appellate Division of the Supreme Court sided with the city, Trump successfully took the case all the way to the New York Court of Appeals, the state's highest court, where he won. The prize: a 10-year tax cut worth $50 million.
That wasn't Trump's only gain. He also hired Gliedman away from HPD to work for the Trump Organization.
When the battle was all over, Trump speculated that the Koch administration had been out to get him.
Attorney Jeffrey Golkin, a member of Trump's legal team at the time, told TRD that the mogul was denied the tax break "because of who he was," noting that the pressure on the government to avoid giving subsidies to billionaires was very real.
In the end, Trump's win carried more weight than could be measured by the coins being returned to his pockets.
It firmly established that luxury real estate projects were eligible for 421a, something that's held true for more than 30 years — as evidenced by the recent (and highly controversial) tax breaks that went to Extell Development's One57 and other luxury towers.
"It absolutely had an impact [on policy]," Golkin said.
In 1985, partially in response to Trump's victory, the New York Assembly introduced the first affordability requirements to 421a, requiring Manhattan developers between 14th and 96th streets to build affordable housing in return for the abatement — a requirement expanded in the following decades.
Sources say Trump's litigious history could inform how he handles adversity in office.
"[H]e will be used to it and more likely to give the go-ahead to have a fight if he feels like it's necessary," said Stanley Renshon, a political science professor at City University of New York, who has written three books analyzing the psychology of American presidents.
Going after capital gains
Trump's 421a fight was not his only one with the government.
Around the same time that he was fighting City Hall, he also went after Albany.
In 1983, then-Governor Mario Cuomo enacted a new 10 percent capital gains tax on real estate sales over $1 million. Not surprisingly, Trump was not a fan of the so-called "Cuomo tax," which would have applied to sales at Trump Tower.
Instead of merely grumbling about it among friends, Trump teamed up with developer Richard Pellicane and took on the governor's tax commissioner, Roderick Chu. The duo claimed that the tax not only violated the state Constitution but also the U.S. Constitution because it exempted small property owners — an unfair carve-out in Trump's view.
Chu, who told TRD that he worked with Cuomo and legislators to craft the new law, said that he had made extensive efforts to solicit input from across the real estate world but that he never heard from Trump.
"I guess he felt the way to do that was to not work with us and just sue me in court and get the whole thing thrown out," Chu said.
When the lower court ruled against Trump, he doubled down and took the case to the Court of Appeals — with the Real Estate Board of New York squarely behind him. But the Appellate court dealt him another blow, ruling that the tax was perfectly constitutional.
Trump and his attorneys then pushed the case all the way up to the U.S. Supreme Court, where justices saw no "substantial Federal question" worth addressing and tossed the case.
"We were confident of our position from the get-go," recalled Bob Abrams, the New York State attorney general at the time, who urged the Supreme Court to reject Trump's appeal. "The AG's office successfully defended the legislature's right to pass, and the governor's power to sign into law, that tax."
Chu, meanwhile, delighted in recounting the story.
"Now that's he's a candidate, I get to brag amongst my friends that Trump sued Chu all the way to the Supreme Court and Chu won," he joked.
Even though Trump lost, he ended up winning in the court of electoral politics when New York descended into the 1990s recession.
In 1995, Cuomo, a Democrat, lost reelection to the Republican candidate, George Pataki. According to news reports, Cuomo cited the real estate tax as one possible reason for his defeat.
Blasting the Bloomberg administration
A few years later, in 2002, Trump again took on the government.
Amidst a tax assessment scandal in Michael Bloomberg's administration in which 18 city property assessors were indicted in a multi-million dollar scheme to shave taxes for select landlords, Trump sued the city for $500 million. He argued that the corrupt practices had cost him in lost sales opportunities at his Trump World Tower condo development near the United Nations, necessitating lower-than-planned prices because taxes were too high.
He even threatened to sue the landlords that had benefitted from the allegedly inaccurate assessments — Leonard Litwin, Sheldon Solow and the Resnick family among them. But this time REBNY was considerably less charmed.
"These charges are outrageous and unfounded," said REBNY's then-president Steven Spinola.
Trump's case went down at the Appellate level, but he got himself a settlement: The city agreed to cut 17 percent from Trump's tax assessment at Trump World, as well as award the building a 421a abatement. In return, Trump agreed to subsidize 200 affordable housing units in the Bronx that another company, the Atlantic Development Group, was partnering with the city on.
"The lawsuit saved us approximately $97 million," Trump wrote his 2004 book "How to Get Rich." "We never would have gotten any of it if we hadn't taken dramatic action."
Trump's entanglements with government entities are not limited to American shores.
In 2011, he sued the Scottish government for showing bias when it allowed a wind farm to be created along the coastline in view of Trump's Aberdeenshire golf resort. He lost that one in 2015.
While Trump has licensing agreements worldwide — in countries like India, the Philippines and Uruguay — he does not appear to have sued any other foreign governments. Still, he may have to smooth over diplomatic relations with Scotland if elected.