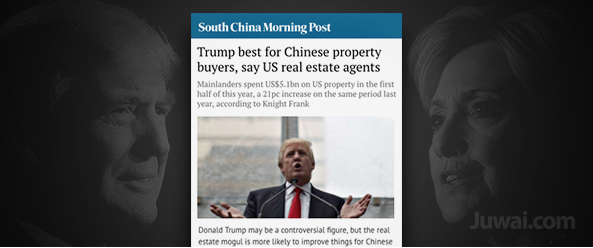 Mainlanders spent US$5.1bn on US property in the first half of this year, a 21pc increase on the same period last year, according to Knight Frank
Donald Trump may be a controversial figure, but the real estate mogul is more likely to improve things for Chinese investors buying up property in the United States than his rival Hillary Clinton, according to American real estate agents.

A survey released on Monday by China's top international real estate website Juwai shows US real estate agents and China-based investors can't agree on which presidential candidate is more likely to put in place policies that help Chinese buying US property.
The US is the top destination for Chinese capital, with mainland Chinese spending US$5.1 billion in the first half of this year, a 21 per cent increase from the same period last year, according to Knight Frank research, so a reduction in investment could mean losing big bucks.
The survey found 55 per cent of US real estate agents believed Trump would implement policies that benefit Chinese investors if he won the November 8 election, while a similar proportion of Chinese investors (54 per cent) said Clinton would be more likely to help mainland property buyers.
Over 50 per cent of real estate agents thought Chinese investment would increase under Trump, while 40 per cent thought it would decrease, the October survey of 504 Chinese investors and 416 real estate agents and professionals in the US found.
About a third of real estate agents thought Chinese investment would increase under Clinton, while a similar proportion (34 per cent) thought it would decrease.
Neither Clinton nor Trump have given any specific policies on international real estate investment, although real estate mogul Trump has international business ties through his luxury real estate company Trump Organisation.
Most Chinese observers feel that with him there are no ideologies, only interests, and interests can be negotiated
MATTHEW MOORE, PRESIDENT, JUWAI AMERICAS
Trump has previously made anti-China comments, describing Beijing as "using our country as a piggy bank to rebuild China" and calling for a 45 per cent tariff on Chinese exports to the US.
The fact that both Chinese investors and agents thought investment could significantly decrease under either candidate spoke to the dramatic nature of this year's campaign, said Juwai Americas president Matthew Moore.
"The vitriol of this election has created uncertainty in everyone's mind," he said.
"While Trump has made many anti-China statements, and promised to tax Chinese goods, most Chinese observers feel that with him there are no ideologies, only interests, and interests can be negotiated."
Juwai.com showcases 2.5 million listings from 89 countries around the world, and attracts over two million monthly visitors.
But Simon Smith, head of research and consultancy for Savills, said he wasn't expecting either candidate to have a big impact on Chinese pouring money into the US.
"I think there is quite genuinely and correctly a high degree of uncertainty at the moment. Pre-election rhetoric on occasions with China ... can be quite misleading, and I think investors know that there are a lot of things said pre-election that may not materialise afterwards," Smith told the South China Morning Post.
"I don't think we necessarily have a clear idea of what the post-election world will look like vis-a-vis Chinese investors," he said. "At this stage, it would be pure supposition to suggest one or the other would be better."
The significant amount of capital flow into the US ahead of the election suggested that there weren't serious concerns about the outcome of the election, Smith said.
"That suggests that alarm bells are not ringing for Chinese investors, that they anticipate some degree of continuity post-election."
The drivers behind the strong growth – mainland companies purchasing businesses and investors diversifying and escaping the weakening renminbi – were unlikely to change following the election, and instead investment was likely to grow, he said.
"Maybe there's a greater risk at home than overseas," he said, adding the Chinese government's moves to clamp down on capital flows could have a bigger impact.
Earlier this month, JP Morgan Asset Management (JPMAM) research found 18 per cent of Chinese investors thought the US presidential election would have an impact on their investment strategy.
"We think the impact of the US election on markets and the economy is likely to be more muted than the campaign hype might suggest," said Marcella Chow, global market strategist, JPMAM.
A Pew Survey of mainland Chinese released at the start of October found 37 per cent of respondents saw Hilary Clinton favourably, while 22 per cent saw Trump favourably.
The latest Washington Post-ABC News tracking poll conducted last week shows the race between the two candidates narrowing, with voters split 47 per cent for Clinton and 45 per cent for Trump.
Housing prices were up in 30 – out of the 45 – housing markets that have published housing statistics so far.