Developers of a mixed-use project at the site of a failed baseball stadium in Newark unveiled plans calling for as many as 2,000 rental apartments and 400,000 square feet of office space, part of an effort to revive the downtown of New Jersey's largest city.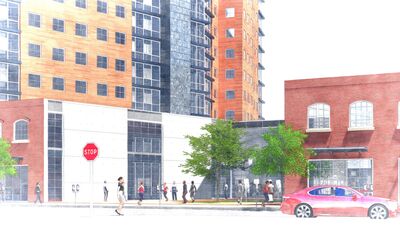 The former Bears & Eagles Riverfront Stadium site
Source: Lotus Equity Group
Lotus Equity Group named four architecture firms that will collaborate on the design for the 2.3 million-square-foot (214,000-square-meter) development, which also would have retail stores and open space, according to the preliminary plans. The site of the former Bears & Eagles Riverfront Stadium is within walking distance of trains to Manhattan and campuses of Rutgers University and the New Jersey Institute of Technology.
"We want to tap into different experts," Ben Korman, chief executive officer of New York-based Lotus, said in an interview. "We wanted to tap the knowledge around us, and, to a degree, from around the world, for a quality middle-class workforce neighborhood. Each one will bring their own sensitivity, but ultimately work together in making it work."
Newark is seeing an influx of real estate investment a half-century after riots tore apart the city and scared away developers. Projects include a new office tower for Prudential Financial Inc., a redevelopment of the abandoned Hahne & Co. department store into a mixed-use property with a Whole Foods Market, and a residential high-rise being built across the street from the New Jersey Performing Arts Center.
Project's Architects
Lotus on Monday also released a rendering of the development, which shows people gathered in a courtyard with cafe tables and blossom-covered trees, surrounded by a ring of office and apartment buildings. The developer aims to start construction sometime next year.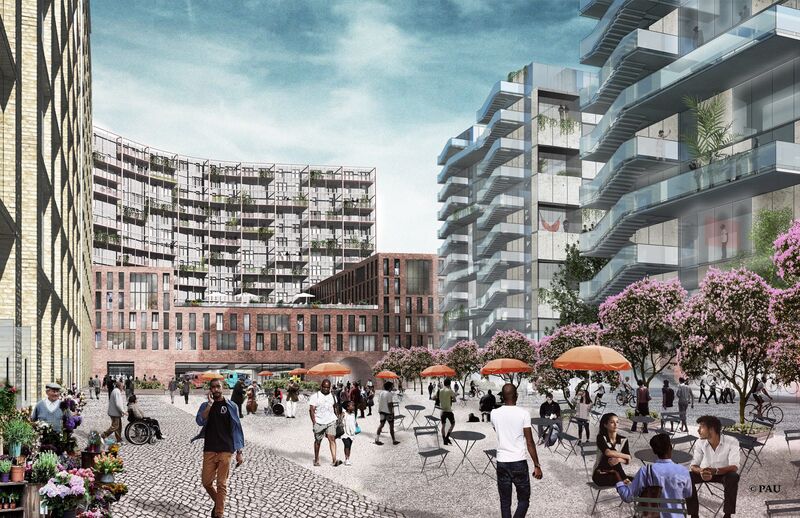 A rendering of the development
Source: PAU
The stadium, a relic from an earlier Newark revival effort, hosted the Newark Bears of the Atlantic League of Professional Baseball, which isn't affiliated with Major League Baseball, from 1999 until the team folded in 2013. Among one-time Bears were such former major-league notables as Armando Benitez, Edgardo Alfonzo, Jim Leyritz and Hall of Famer Rickey Henderson.