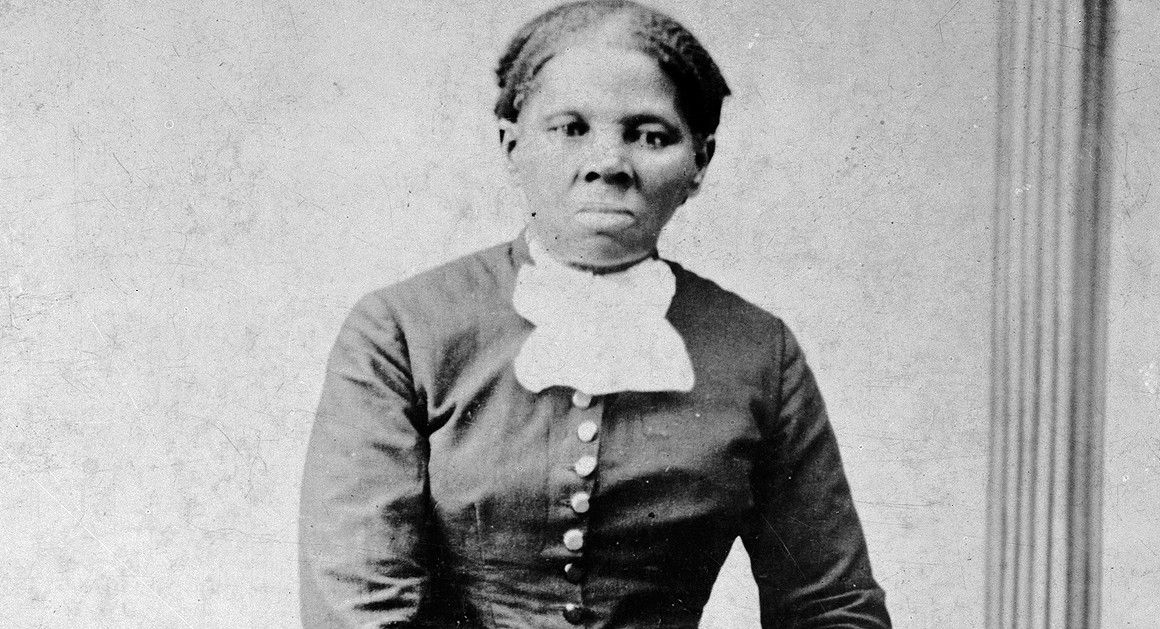 Tubman replacing Jackson on the $20, Hamilton spared
Treasury Secretary Jack Lew reverses a plan to bump Hamilton after receiving fierce blowback.
Harriet Tubman will bump Andrew Jackson from the front of the $20 bill while Alexander Hamilton will stay put on the $10 — a historic move that gives a woman prime placement on U.S. currency and quells a controversy kicked up by Hamilton super-fans.
"Today, I'm excited to announce that for the first time in more than a century, the front of our currency will feature the portrait of a woman, Harriet Tubman, on the $20 note," Treasury Secretary Jack Lew told reporters during a conference call Wednesday afternoon. "Her incredible story of courage and commitment to equality embody the ideals of democracy that our nation celebrates, and we'll continue to value her legacy by honoring her on our currency."
Lew rolled out sweeping changes that will put a new cast of historic figures onto various bills that have remained largely static for decades. Leaders of the women's suffrage movement will make their way onto the back of the $10 bill, while civil rights era leaders and other important moments in American history will be incorporated into the $5 bill. Jackson will be kicked to the back of the $20 bill.
The plan is a major reversal for Lew, who appeared taken aback by the swift rebukes Treasury received last summer when he announced that he was considering replacing Hamilton on the $10 bill with a woman.
While he explained that Hamilton was on the chopping block as a matter of practicality – the $10 bill was the next one up for a redesign – Lew still got an earful from fans of Hamilton, who helped create the Treasury Department and the modern American financial system.
Critics immediately called for Lew to take Jackson off the $20 bill instead, given the former president's role in moving Native Americans off their land.
Lew told POLITICO last July that Treasury was exploring ways to respond to critics. "There are a number of options of how we can resolve this," Lew said. "We're not taking Alexander Hamilton off our currency."
But supporters of putting a woman on the $10 bill have complained that it will take too long for the $20 bill to come up for a redesign. Lew has predicted that the new bills will be unveiled in 2020 to coincide with the 100th anniversary of the ratification of the 19th Amendment, which granted women the right to vote.
On the call on Wednesday, Lew said he would try and make the changes quickly. "The two things most important are the security of our money and getting this process to move as quickly as possible," he said.
"Due to security needs, the redesigned $10 note is scheduled to go into circulation next," Lew said. "I've directed the Bureau of Engraving and Printing to work closely with the Federal Reserve to accelerate work on the new $20 and $5 notes. Our goal is to have all three new notes go into circulation as quickly as possible, while ensuring that we protect against counterfeiting through effective and sophisticated production."
The movement to keep Hamilton on the $10 bill was fueled by academics but gathered strength after the Broadway musical named after the former Treasury secretary and founding father became a smash hit.
"Hamilton" creator Lin-Manuel Miranda even directly lobbied Lew last month on Hamilton's behalf, after which Miranda said Lew told him "you're going to be very happy" with the redesign plan.
Reaction to Tubman, a Civil War-era abolitionist, replacing Jackson on the front of the $20 was widely positive, with Democratic presidential candidates quickly hailing Treasury's decision.
"A woman, a leader, and a freedom fighter," Hillary Clinton tweeted. "I can't think of a better choice for the $20 bill than Harriet Tubman."
Bernie Sanders concurred, tweeting roughly 30 minutes later that he "cannot think of an American hero more deserving of this honor than Harriet Tubman."
Sen. Jeanne Shaheen (D-N.H.) tweeted that it was "great news!" "Tubman on $20 is the right call," she added. "The redesign needs to happen as soon as possible. Women have waited long enough."
Rep. Luis Gutiérrez (D-Ill.), who introduced the "Put a Woman on the Twenty Act in Congress" last year in the House (Shaheen introduced a similar bill in the Senate), also commended the decision Wednesday.
"There has been a lot of talk about putting a woman's portrait on our money, but finally it sounds like Secretary Lew is putting our money where his mouth is," Gutiérrez said in a prepared statement. "It is crazy that women have been mostly absent from our money up until now, with only a few exceptions."
Conservatives also supported the selection of Tubman for the $20 bill. National Review writer Charles C.W. Cooke tweeted: "Given the sheer number of blows that Tubman struck for liberty, she belongs on the currency more than most. Good choice."
Former Republican presidential candidate and retired neurosurgeon Ben Carson, however, expressed his love for Tubman and what she accomplished but suggested that placing her on the $2.00 bill would be a more appropriate honor.
Tennessee Sen. Lamar Alexander on Wednesday expressed dissatisfaction with the decision to move Jackson, arguing that history shouldn't pit the former president against the anti-slavery activist.
"United States history is not Andrew Jackson versus Harriet Tubman," he said in a statement. "It is Andrew Jackson and Harriet Tubman, both heroes of a nation's work in progress toward great goals. It is unnecessary to diminish Jackson in order to honor Tubman."
Historians and policy wonks weighed in as well, sharing praise for the compromise.
"[Hamilton] is fully appropriate to be on American currency, whereas Jackson was a scoundrel, a slave holder and a white supremacist who was involved in the removal of Indians and was completely opposed to paper money and was horrible to women," said Kari Winter, director of the gender institute at the University at Buffalo.
Former Federal Reserve Chairman Ben Bernanke, a fellow at the Brookings Institute, last year railed against the initial plan, saying he was "appalled" Hamilton would be yanked.
On Wednesday, he called the new plan "a good one," noting that it fell in line with what he recommended.
"Tubman is an excellent and deserving choice, and no one has a better claim to be represented on the currency than Hamilton, who did so much to help establish the American economic system we know today," he wrote in a blog post.
Bernanke also advised that Treasury, similar to the U.S. Postal Service, should redesign bills more frequently. "Occasional changes to bill design would give us more space and flexibility to honor the past; and, if done at reasonable intervals, could coincide with necessary security improvements as well," he said.
Federal Reserve Chair Janet Yellen also commended the move. "Throughout American history, women have made important contributions to the free and democratic society we enjoy today," Yellen said in a statement. "I welcome the decision by the Treasury Department to honor these achievements. The Federal Reserve will work with Treasury on a design that also incorporates strong security features to protect worldwide users of U.S. currency."
White House deputy press secretary Jennifer Friedman said President Barack Obama was both pleased with Americans' enthusiasm around the whole process and the end result. "The President welcomes Secretary Lew's important announcement that our next currency will honor the contributions that women and civil rights leaders have made to our country, celebrate our democracy and reflect the rich history of the United States and the struggles for freedom and equal rights," Friedman said.
And it's not just the faces that are changing on the bills.
U.S. Treasurer Rosie Rios told reporters on the call that the new currency will include additional security features. "For the first time in our history, our currency will also include a new tech-help feature intended to aid the blind and the visually impaired," Rios said. "This is a new, complex and critical, important element in the production of modern U.S. currency."

By BEN WHITE and NOLAN D. MCCASKILL